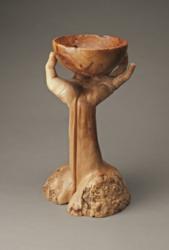 Philadelphia, PA (PRWEB) November 11, 2011
Turning to Art in Wood: A Creative Journey, the 25th anniversary exhibition of The Center for Art in Wood (formerly The Wood Turning Center) inaugurates the Center's new location at 141 N. 3rd Street In Old City Philadelphia, On display November 11, 2011 to April 21, 2012. http://www.centerforartinwood.org.
More than 100 objects comprise the exhibition, purposefully selected from the Center?s collection of more than 1000 art works, dating from the 1970?s and 1980?s to today. All have been acquired or are promised gifts. From extraordinary bowls, wall art and furniture to abstract sculptures and newly imagined forms, objects are grouped in ?conversations? that ask viewers to consider them from new perspectives.
Exhibition curator Gerard Brown, a faculty member at Temple University?s Tyler School of Art, ?discovered? the collection while a Resident Scholar at The Center for Art in Wood. ?I would occasionally ask myself, ?what am I looking at?? In fact, I learned I was not interested in those objects as souvenirs or relics or for their status?I am interested in how this collection might propel a conversation forward by creating new conversations between artists and among objects.?