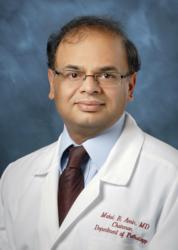 (PRWEB) July 19, 2011
How does personalized medicine fit into the ever-evolving globe of digital pathology? Mahul B. Amin, M.D. will share his perspective on the topic and a lot more at the 2011 Digital Pathology Association?s Pathology Visions Conference. The 7th annual international conference will be held Oct. 30 ? Nov. 2, 2011 in San Diego, CA at the Manchester Grand Hyatt.
&#13
Dr. Amin?s keynote address promises to shed light on how personalized medicine relates to the discipline of pathology. Dr. Amin at present serves as the Chairman and Professor of the Department of Pathology and Laboratory Medicine at Cedars-Sinai Medical Center. His speak will also review the role of the pathologist in contemporary health care and discuss the contributions, strengths and limitations of traditional microscopy. Topics many in the field of digital pathology will locate intriguing.
&#13
?We are honored to have Dr. Amin, a recognized pathology leader, as the keynote speaker at this year?s Pathology Visions Conference,? stated Dirk Soenksen, President of the Digital Pathology Association and Chair of the Pathology Visions Program Committee. ?The focus of Dr. Amin?s keynote address is particularly relevant, given that digital pathology is a catalyst in offering pathologists with the tools and information needed to be productive in the era of personalized medicine.?
&#13
The Pathology Visions Conference will also showcase more than 35 additional distinguished speakers who will share their breadth of digital pathology information in the clinical, analysis and education arenas.
&#13
Furthermore, the Pathology Visions Conference will feature dozens of cutting-edge market workshops, an extensive exhibit hall filled with the newest item solutions, access to white paper sessions, round-table discussions, scientific poster sessions, and networking events.
&#13
The Digital Pathology Association?s annual meeting is the premiere conference dedicated solely to the field of digital pathology. Conference attendees travel from around the world to take component in this yearly must-attend event for anybody working with, or interested in, digital pathology. The Pathology Visions Conference supports the mission of the Digital Pathology Association to facilitate education and awareness of digital pathology applications in wellness care.
&#13
To understand far more and to register for the 2011 Pathology Vision?s Conference go to http://digitalpathologyassociation.org/pathology-visions-conference.
&#13
###
&#13 &#13 &#13